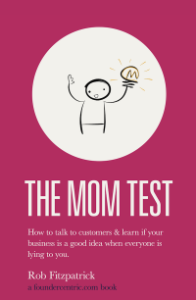 All the entrepreneur gurus and those of us who aspire would all agree that one of the most important things a startup founder can do early is to "know thy customer".  This comes in a lot of different names: Market Validation, Value Proposition, Customer Value, Customer Discovery, MVP.  That's what we do.  We give names to stuff that is really very simple so we can sound like experts, or we write books and blogs and we have to sound credible.
Then someone comes along and blows it all out of the water by covering a concept in its very essence, so basically that we slap our own foreheads and utter in jealous disgust, "why didn't I think of that?"
So it is with Rob Fitzpatrick's The Mom Test.
In western culture, and especially in American culture, we are raised to be individuals with our own unique ideas and dreams.  Other more traditional cultures have a framework for how one is to behave and how destiny is mapped based on class or some other "box".
So we have them.  Ideas I mean…  And it is only natural that we seek validation for 
our ideas and creativity, which is the basis for our prolific social network culture.  Those that love us give us validation and technology has made it easy.  All you have to do is click "like" or retweet and BOOM, you're validated.  In a way, we've become the self-esteem generation with participation trophies and everyone's a winner.
People will lie to you by telling you what they think you want to hear.  Since we want to hear good things, our brains are programmed to get them.  "Here's my great idea.  Do you like it?"  "Well of course I do."
But, as Rob Fitzpatrick states honestly but brutally, "People stop lying when you ask them for money."
In order to have a business, you have to have a customer.  Customers have money they exchange for stuff that delights them or eases their pain.  You don't get to decide for them.
The Mom Test is a simple formula for getting to the truth:
Ask people about their problems, instead of talking about your solutions
Ask them about specifics of the past rather than opinions of the future
Talk less, listen more.
If you get nothing else from this post or the book itself, get this:
Here are the top 12 Things I took away from The Mom Test:
It's your job to find the truth
Opinions are worthless, the future is a lie
Some problems just don't matter
People want to help.  Give them an excuse.
You get three big questions.  Chose them carefully.
The purpose of the conversation is to get data
Look for emotional signals
Keep it casual
Meetings are either succeed or fail.  Successful leads to "what's next."
Compliments cost nothing so they are worth nothing
It's not real until you write it down
Stop only when you stop hearing new stuff
For some reason, we are afraid to talk to actual people about about their problems and when we do, we go into manic sales mode about how great our ideas are.  If you want to know what your customers need and want, ask them about their experience.  Then shut up and write down everything.